2009 Jetta TDI to start below $22,000 in the US
Posted by Lorenzo at 8:26 p.m.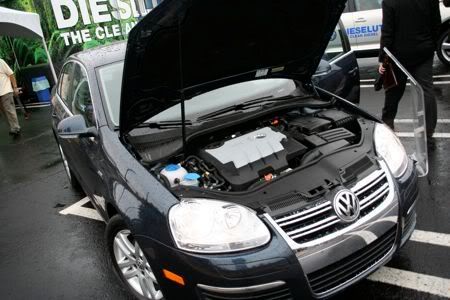 Volkswagen has announced the price for the much anticipated return of the Mk. V Jetta TDI to the US market. The Jetta TDI sedan will start at $21,990 and the SportWagen at $23,590. That places the Jetta TDI in Prius territory. This is the first 50-state compliant TDI engine for the Jetta since the engine was pulled off the market. That alone should be worth the $2,000 premium over a regular Jetta (which it is). It will be offered in both manual and DSG.
The real story here, however are the mileage figures. Volkswagen initially rejected the EPA's rating of 30/41 mpg, stating that the figures should be higher. To prove the point, Volkswagen hired a third-party to look into the matter and so returned with a rating of 38/44 mpg. Officially, the Jetta TDI will be rated with the EPA's numbers however there is a lot of potential to do much better in the real world (for the old TDI engines, owners have been known to go into the 50s).
Press release after the jump.
Source: Volkswagen




Volkswagen Jetta TDI starting at $21,990 and certified at 38/44 mpg



HERNDON, Va.—Volkswagen of America, Inc. today announced pricing for their eagerly anticipated Jetta TDI sedan and SportWagen starting at $21,990 and $23,590, respectively. Fuel efficiency, performance and convenience all come standard with the 50-state compliant Jetta sedan and SportWagen TDI, which meet the most stringent emissions standards in California and the world. Both models will be available this August.

"Our clean diesel vehicles offer consumers a true value with the fuel efficiency that drivers are looking for while providing power, utility and performance," said Mark Barnes, COO, Volkswagen of America, Inc. "The Jetta TDI's offer a no compromise alternative fuel driving experience."

While the Environmental Protection Agency estimates the Jetta TDI at an economical 29 mpg City and 40 mpg Highway, Volkswagen went a step further to show the true fuel economy of the Jetta TDI. Leading third-party certifier, AMCI, has tested the Jetta TDI and found it performed 24 percent better in real world conditions, achieving 38 mpg in the City and 44 mpg on the Highway.*

The Jetta TDI's come standard with Volkswagen's Prevent and Preserve Safety System, consisting of numerous standard safety features. Jetta TDI's include six airbags, with optional rear side airbags, and like all 2009 model year Volkswagens, Jetta TDI's also feature standard Electronic Stabilization Program (ESP) for added safety.

Also standard for 2009 is Volkswagen's carefree maintenance program, with this program there are no charges for the scheduled maintenance described in the vehicle's maintenance booklet for the length of the New Vehicle Limited Warranty—three years or 36,000 miles, whichever occurs first.



Volkswagen of America, Inc.


Volkswagen of America, Inc. recently announced Electronic Stability Program (ESP) as standard equipment on all its 2009 vehicles. As a result, Volkswagen is one of the only original equipment manufacturers to offer an electronic stability control system on their entire product line – ahead of the National Highway Traffic Safety Administration's (NHTSA) deadline requiring vehicles in the 2012 model year to include stability control systems. Volkswagen's ESP technology works in conjunction with anti-lock brakes and helps reduce loss of control and rollovers to avoid crashes. NHTSA predicts nearly 10,000 lives could be saved each year if automakers included stability systems as standard equipment.

Founded in 1955, Volkswagen of America, Inc. is headquartered in Herndon, Va. It is a subsidiary of Volkswagen AG, headquartered in Wolfsburg, Germany. Volkswagen is one of the world's largest producers of passenger cars and Europe's largest automaker. Volkswagen sells the Rabbit, New Beetle, New Beetle convertible, GTI, Jetta, GLI, Passat, Passat wagon, Eos, Tiguan and Touareg through approximately 600 independent U.S. dealers. Visit Volkswagen of America online at vw.com.