Porsche makes official bid for Volkswagen
Posted by Lorenzo at 12:26 p.m.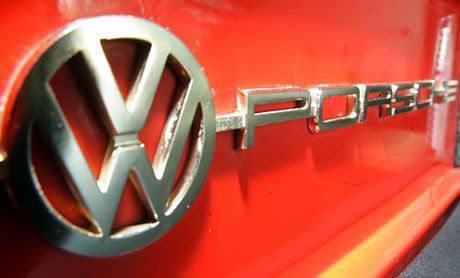 It was just a matter of time. After Porsche
increased it's stake
past the 30% threshold that would make a takeover bid mandatory, it was just a matter of time until they would indeed make an official bid. And that's exactly what they did today.
Stuttgart-based Porsche has made an official bid for Volkswagen, at a price of Є100.92 per common share and Є65.54 for preferred shares. It is important to note that the offer Porsche has put on the table is only the bare minimum required for a bid, what with the current Volkswagen share price at around Є112. Porsche explains that they aren't necessarily seeking to takeover Volkswagen just yet. They only launched this bid so that should they decide to purchase more shares in the future, they wouldn't have to launch another takeover bid. However, where things are sitting right now, Porsche's stake plus that of the State of Lower Saxony now shields Volkswagen from any hostile takeover by foreign interests, something Porsche fears would happen if the controversial
Volkswagen Law
is brought down by the EU.
Regardless, Porsche has given Volkswagen 4 weeks (May 29) from today to decide the fate of their bid. Analysts say that it will not be accepted by board members.
Source: Business Week