DSG: 1 million served and counting
Posted by Lorenzo at 5:45 p.m.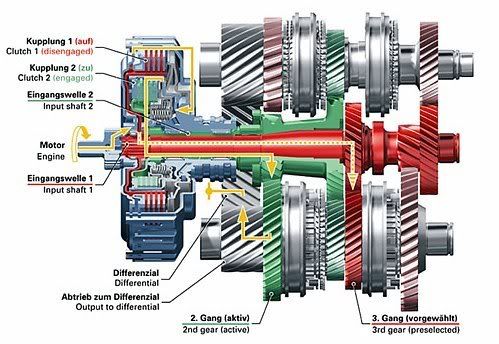 There was a time when driving was defined by two distinct groups: automatics and manual. For decades, these two groups learned to live as two separate yet equally important species. Then, five years ago, Volkswagen comes out with a transmission that totally blurred the line between these two groups. It presented the smoothness and convenience of an automatic combined with the ability for the driver to actually choose when to shift to what gear, like a manual. What more, this new transmission was able to shift faster than any human could with a manual, let alone an automatic. It's called a Direct Shift Gearbox, DSG for short.
Five year's on, manufacturers such as BMW, Fiat, Renault, and Volvo have begun to copy the DSG recipe, putting out dual-clutch gearboxes of their own. But the original is always the best, of course, and the DSG is just that good that it has made its 1 millionth gearbox in just five years. Volkswagen's DSG factory in Kessel, Germany put 400,000 DSG gearboxes in cars last year. They are now increasing output in that factory to 1750 each day. The popularity of DSG is just getting bigger. And Volkswagen is not done yet. They have developed a
7-speed DSG
for better fuel economy.
But of course, it all comes down to that feeling you get just as you flick that paddle shifter. That satisfying jolt you get when that second clutch engages in just 8 milliseconds. That's what's made DSG arguably the best transmission out there.
Source: Volkswagen


1 million DSG – Volkswagen celebrates the bestselling gearbox
Kassel has produced the dual-clutch gearbox for the Group since 2003
Latest 7-speed DSG now available

Wolfsburg/Kassel, 05 February 2008 - DSG – three letters that stand for supreme shift comfort, economy and sportiness. Together with staff from the Kassel factory and Prof. Werner Neubauer, member of the Board of Management of the Volkswagen brand responsible for the Components division, the management of the Volkswagen factory in Kassel today celebrated the one-millionth dual-clutch gearbox (DSG).

The idea for the dual-clutch gearbox was born in motor-racing. It was picked up by Volkswagen in the 1980s and has since been developed further. When the first Volkswagen DSG went into series production in 2003, it sent shockwaves through professional circles. This innovation provided a previously unknown level of shift comfort. The once clear line between automatic and manual gearboxes had been bridged, and an extraordinary level of driving dynamics achieved.

Even the customers were soon enthusing, despite all the reservation compared to conventional gearboxes. Just five years later, the DSG has, for example, a 25 percent installation rate on the Touran. This is also a major success for the staff at the Kassel factory, the only Volkswagen factory to produce the DSG.

In 2007 alone, more than 400,000 six-speed DSG gearboxes were installed across the Group – and there is no sign of an end to this success story. "Because of the great demand, we shall shortly be boosting our daily capacity to 1,750 units," explained General Factory Manager Dr. Hans-Helmut Becker.

Prof. Werner Neubauer added: "All around the world, our DSG gearboxes from Kassel are synonymous with sporty driving pleasure and economical fuel consumption. They successfully combine the best of two gearbox worlds. We are already on the way to the two-millionth DSG, and on the way, this modern technology will sharpen Volkswagen's global competitive edge in the field of transmission technology even further."

Jürgen Stumpf, Chairman of the Works Council at the VW factory in Kassel is also convinced by the DSG: "The competence and expertise of our staff make this cutting edge technology 'made by Kassel' possible. The DSG has now become a guarantee for job security at the factory."

Volkswagen has now shifted up a gear with the new 7-speed dual-clutch gearbox, the second generation of the successful bestseller. This gearbox combines two world firsts. Firstly, it is the first 7-speed DSG for front-traverse installation. Secondly, it is the first with clutches that are not immersed in oil, but which run "dry". This enables the latest Volkswagen DSG, available in the Golf, Golf Plus, Cross Golf, Golf Variant, Polo, Cross Polo and other models to achieve even greater efficiency.