ESP to come standard on all MY2009 models.
Posted by Lorenzo at 9:01 p.m.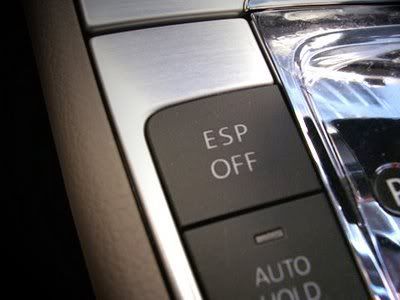 Starting with the MY2009, Electronic Stability Program (or ESP) will come standard on all models across the range. This is to comply with an NHTSA mandate that all cars sold in the US must have some sort of electronic stability control as standard by 2012. But it's only 2008 you say. Yes, and that makes Volkswagen the first automaker that isn't a luxury marque to comply with this forthcoming standard.
Of course, in a controlled environment, ESP can be turned off for a bit of spirited driving.
Press release after the jump.
Source: Volkswagen


VOLKSWAGEN INSTALLS ELECTRONIC STABILIZATION PROGRAM ACROSS THE LINE IN 2009

Volkswagen ahead of industry and the government's deadline

AUBURN HILLS, Mich. - Volkswagen of America, Inc. announced today that its Electronic Stabilization Program (ESP) will be standard equipment on every 2009 model year Volkswagen vehicle – passenger cars, sport utility vehicles, and minivans. By offering ESP as a standard feature, Volkswagen is the first non-luxury manufacturer to include an electronic stabilization system at no additional cost on every vehicle it sells – well ahead of the National Highway Traffic Safety Administration's (NHTSA) deadline requiring all 2012 model year vehicles to have such systems.

"Volkswagen has long been a leader in making high technology accessible to all," said Volkswagen of America, Inc. CEO Stefan Jacoby. "ESP has been available on all Volkswagens in the US for several years. Now, making ESP standard across our entire line reinforces Volkswagen's commitment to safety for all our customers, and further shows why we are a market leader in offering some of the safest vehicles on the road today."

NHTSA predicts nearly 10,000 lives could be saved each year if all automakers included electronic stabilization systems as standard equipment.

Volkswagen's ESP system uses a number of electronic vehicle controls to make a safe car even safer and helps the driver maintain control of the vehicle during dynamic driving conditions. The ESP system works in conjunction with the Anti-lock Braking System (ABS), Anti-slip Regulation (ASR), components of the Electronic Differential Lock (EDL) system, and additional sensors.

Founded in 1955, Volkswagen of America, Inc. is headquartered in Auburn Hills, Michigan. It is a subsidiary of Volkswagen AG, headquartered in Wolfsburg, Germany. Volkswagen is one of the world's largest producers of passenger cars and Europe's largest automaker. Volkswagen sells the Rabbit, New Beetle, New Beetle convertible, GTI, Jetta, GLI, Passat, Passat wagon, Eos, and Touareg through approximately 600 independent U.S. dealers. Visit Volkswagen of America online at vw.com.