Porsche supervisory board approves bid to increase stake in Volkswagen
Posted by Lorenzo at 5:59 p.m.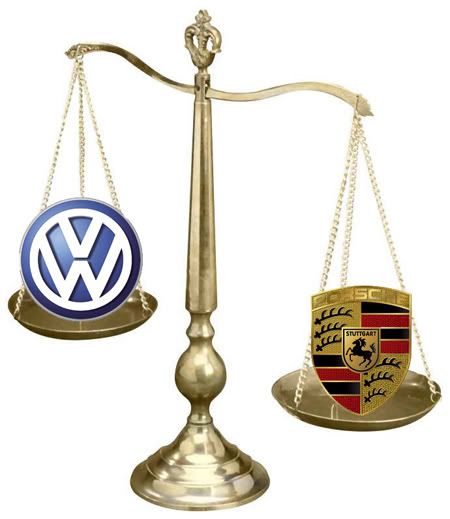 Porsche's supervisory board has approved a bid for the automaker to increase its stake from 31% to 51%, thus giving it effective control over Volkswagen. Despite the resultant majority stake, Porsche maintains its position against a takeover. This move will set Porsche back $20 billion.
It is important to note that nothing else has happened other than the supervisory board's approval and Porsche has not even announced when it would actually take action. Besides, this will still have to through Germany's and the EU's bureaucracy to get the necessary approvals so this will take years.
Porsche has been courting Volkswagen ever since the Volkswagen Law was
in danger
of being struck down. They initially
increased
their stake in March of last year to 31%. Then, late last year, the EU Court
ruled against
the Volkswagen Law, leaving Volkswagen open to a foreign hostile takeover and that wouldn't be in the best interest of Porsche. Volkswagen has become a crucial parter for Porsche. Volkswagen shares its know-how in building volume models like the Cayenne and in return, Porsche shares its knowledge of production efficiency and that sort of thing to Volkswagen. It is a partnership that benefits both sides.
If this does go through, the fate of certain Volkswagen AG brands remains to be seen. Bentley, Lamborghini, and Bugatti are especially in danger. Porsche maintains that Volkswagen will not be broken down into smaller companies. We shall see.
Source: Detroit News via Autoblog