Volkswagen reveals 2008 Beijing Olympics torch relay convoy
Posted by Lorenzo at 5:13 p.m.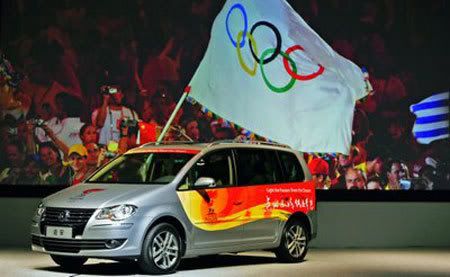 The Beijing Summer Olympics are just months away and the torch relay is set to start at the end of this month. With the Beijing Olympics torch relay being the longest distance of any torch relay in history, they will need the best convoy to make sure nothing gets in the way. Volkswagen is up to the job and has just unveiled the convoy for the torch relay.
Five models will take part in the convoy: a Touran, Passat Lingyu (Passat based on the B5), Crafter, Sagitar (Mk. V Jetta), and Magotan (long-wheelbase B6 Passat) and a total of 1,000 vehicles will be used.
The torch relay will last 97 days and cover a distance of 40,000 km
Press release after the jump.
Source: Volkswagen


Volkswagen Group China will deliver 1,000 cars as official supplier
Beijing, 28 February 2008 - Two months ahead of the Olympic torch arriving in China, Volkswagen unveiled the first convoy vehicles with Olympic design to the public. These models will be part of 1,000 cars which will accompany the Olympic flame gradually on its way across China. The presentation on Thursday in Beijing was attended by Mr WANG Wei, Executive Vice-President and Secretary General of the Beijing Organising Committee for the Games of the 29th Olympiad (BOCOG), Dr. Winfried Vahland, President & CEO Volkswagen Group China, Mr AN Tiecheng, President of FAW-Volkswagen, and Mr LIU Jian, Managing Director of Shanghai Volkswagen. Volkswagen and its joint ventures were nominated at the event as official supplier for the torch relay.

"This relay shall be recorded in the Olympic history as the torch relay with the longest duration and involving the widest geographical areas and the largest number of participants. As such it is a great honor for Volkswagen to have been chosen as the official supplier. Vehicles are an integral part of the torch relay which are necessary to make this great event happen. Our vehicles will be permanently involved. It is a pleasure to be involved in this relay. It stands for peace and friendship. We will do everything we can make this the greatest torch relay ever," Vahland said.

40 convoys and service around the clock
346 vehicles will be used for the core convoys, while 583 will serve as administration and support cars, while another 30 will be used for security and media purposes. 40 convoys will be formed in the course of the relay through China.

Ten Volkswagen Crafter will be especially equipped to host media and camera teams and to serve as security vehicles. The Volkswagen Touran, Passat Lingyu and Skoda Octavia will be provided by Shanghai Volkswagen, while FAW-Volkswagen put the Volkswagen Magotan, Sagitar and Audi vehicles at disposal. Volkswagen Crafter and Multivans will be provided as imported vehicles. To assure technical support and service around the clock Shanghai Volkswagen and FAW-Volkswagen will also provide a dedicated team of professionals, comprised of more than 200 of the company's best technical support and after sales service staff.

Longest torch relay ever
The Beijing 2008 Olympic Torch Relay will last 97 days in total and will cover more than 40,000 kilometers. The flame will arrive in Sanya in the South of China on May 4 and will arrive in Beijing on August 8. It will be carried through 113 cities and regions from all 31 provinces, autonomous regions and municipalities of China and will be carried also on top of the Mount Everest.