Volkswagen's new People's Car ?
Posted by phaeton at 6:00 a.m.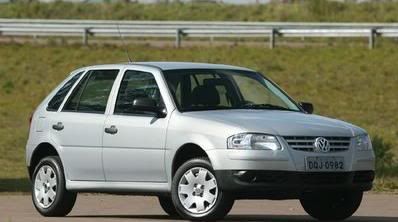 For my First article for The VW Gazette I decided to write about the new unreleased Gol NF (New Family) range that will debut in Early 2008 in Brazil.
(pictured is the current Gol)



Now what is a Gol I hear you ask ? Well the Gol has been Brazil's Number 1 seller for the past 20 Consecutive Years and is an important part of VW Brazil's lineup, with 4.5 Million sales since 1st released it is definitely an important VW in terms of market share.

The entry level Gol which sits below the Fox and Polo was released in 1980 with a aircooled engine later a North-South (Longitudinal) placed watercooled 4-cylinder engine, other bodystyle variants were released shortly after a Sedan (Voyage), a Wagon (Parati) and a Pickup (Saveiro).

Now one of the biggest well known Export deals would have been the exports to the US when the Wagon and Sedan were sold as the Fox.
With high retail price (in early 1990s) due to Brazil's inflated market the deal was cancelled by 1994.

Other deals since then include selling the Gol in Russia as the Pointer and producing the Gol in one of Volkswagen's two Chinese Joint Ventures Shanghai Volkswagen sales were not great as the Gol platform was seriously ageing.

Which brings me to the all new Gol NF family which is infact using current Fox & Polo chassis/components due to VWs cost saving intiatives but is all new in Gol terms.

The NF family will be made up of 3dr/5dr hatchback, sedan, utility, panel van (below the Caddy) and a SUV/Crossover variants.

Not mentioned is the Wagon because from what I've read from various media sites the SpaceFox(produced in Argentina for Sth. American market) replaces the Parati, that could change though, as other media sites report Gol NF may replace current Gol line and Fox lines and combine them keeping costs down, which does make sense and is what I think will happen.

Gol NF family engines will be borrowed from the current Fox and Polo ranges so 1.0 to 1.6 petrol and 1.4 diesel possibly bigger capacities in the future.

The Gol NF Family is the big one for VW as they will build it (or a version off the NF platform) in Developing Countries such as Argentina, Brazil, China, India and Russia.

With the Gol NF products being built in Developing Countries, Europe, Asia-Pacific, Africa and quite possibly some of the variants may find their way into North America will benefit from the cheaper export prices.

The plan is that Gol NF based vehicles will be able to be built easily to the destined markets desires, an example is that for Europe and say North America the car would be packed full of features like Airbags, ABS Brakes, ESP and other Luxuries that would be optional on other markets like India & China for example.

Now if VW get this platform packaged correctly and target the Toyota Yaris or below, it will be a sales phenomenon much like the beloved Beetle and will be an important step in growing market share for Volkswagen worldwide.

With Enthusiast and Buyers craving for a new lovable Entry Volkswagen, Martin Winterkorn and his team must be as excited as I am to finally see VW get it right.