Volkswagen US plant could be built for 250,000 capacity
Posted by Lorenzo at 5:45 PM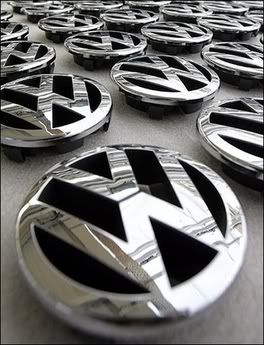 The officially unconfirmed (but unofficially confirmed) Volkswagen production facility to be located in the US is reportedly going to built to handle a production output of 250,000 cars, according to Motor Trend, with production beginning sometime around 2010/2011. The first car to be produced Stateside in the new facility is said to be the
Passat replacement
, which utilizes one of the
four modular architectures
that Volkswagen is developing for all its brands.
Specifically, the Passat replacement will utilize the MQB architecture with a transversely mounted engine. The MQB architecture can be used for models ranging from the Fox to the A3 and everything in between. The advantage of using modular architecture is that various models can be built using basically the same components such as engines and transmissions, without having to worry about them fitting. MQB alone will reported cut costs by as much as 40% and development times by as much as a year.
Of course, Volkswagen hasn't officially said whether or not they will build a factory in the US. But all indications point to the affirmative and the weak dollar isn't helping Volkswagen much these days. It is expected that Volkswagen will make an announcement sometime in June.
Source: Motor Trend